Killing Blue Dragons is probally the best known way to make money in Runescape as it is a very popular method, Blue Dragons can be found in the wilderness north-west of the King Black Dragon's portal, the location this path will lead you to is a crater in the floor where the Blue Dragons will be, The Blue Dragons levels are 106 which is a pretty high combat level, I would not suggest this method to people with a combat level below 90 as it could take to long to kill a dragon or have that risk of dieing, which would not be good as your stuff is dropped automatically and you would have no gravestone so other people are able to pick up your items with no delay, When killing the Blue Dragons they will always drop Dragon Bones and a Blue dragonhide, Personally i would Recommend picking up both as this will be faster to get a full inventory meaning you could get more runs in a hour, at an average level of 120 i would say this method could easily make over 450k an hour at least.
NOTICE: YOU MUST TAKE A ONE-HANDED WEAPON AS YOU WILL NEED TO BE ABLE TO WIELD A DRAGONFIRE SHIELD OR A ANTI-DRAGON SHIELD!
(Below is a Screenshot of a route to Blue Dragons from the Edgeville Lodestone)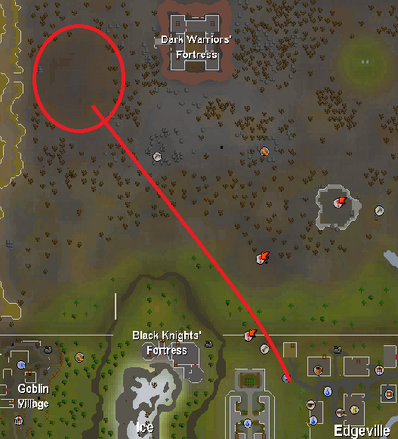 Community content is available under
CC-BY-SA
unless otherwise noted.